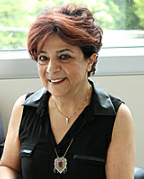 As a Professional Librarian Fereshteh has:
Achieved strong community ties working in multiple library systems throughout North Shore and Vancouver for 25 years
Built multilingual ( Persian and other languages )and innovative ESL collections for libraries, mainly North Vancouver City Library and West Vancouver Memorial Library (Persian Collection)
Provided outreach, programs and educational workshops to newcomers and community at large
Presented "intercultural communication" training to various organizations and conferences including UBCO, ELSA Conference, and British Columbia Library Association Conference
Worked closely with educational and cultural agencies and community tables engaged in recognition and improving services to immigrant communities including NSIP, NSMS, Literacy North Shore and North Vancouver Museum and Archives.
Served as Chair of the Multicultural Services Committee British Columbia Library Association until her retirement in 2017.
Prior to moving to Canada, she worked with faculty status in the National Library of Iran; Research Fellow at the Institute for Scientific and Cultural Studies; Chief Editor: Scientific and Cultural Publications Co. and taught at the University of Tehran, Faculty of Education. She has authored and translated several books and published articles in Persian and English.
Fereshteh moved to Canada with her husband and two young children in 1990 and proudly calls North Shore home ever since.
Education:
BSc (Economics and Business Administration, Minor: Sociology)
MLS (Master of Library Science)
Honours: English Literature
People Categories: Board of Directors,