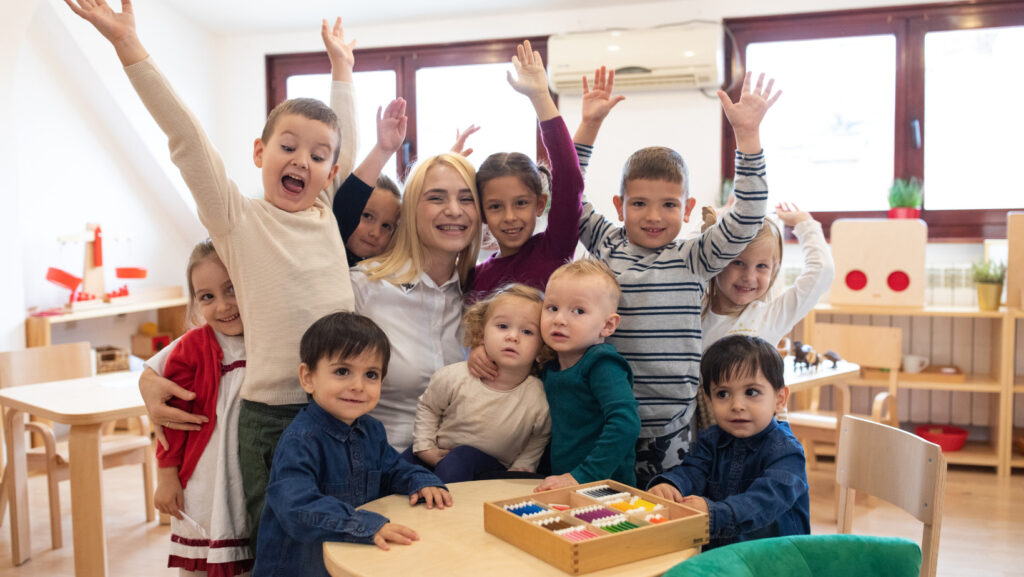 May is Child Care Month: Be heard, Be appreciated
NSCR's offices are located on the unceded, traditional and ancestral lands of the Musqueam, Squamish and Tsleil-Watuth peoples. We commit to the Truth and Reconciliation Report Calls to Action, UNDRIP and the UNRC in ways that honour the original stewards of this land.
In 2019, the second edition of the BC Early Learning Framework provided a unique vision that expanded and reimagined the relationships between educators, children and families. It introduced complex language that to described the educator's work in an effort to reflect the new realities that children and families experience. Since that time, Covid-19 has been declared a global pandemic creating an economic and health crisis: this has been compounded by the war in Ukraine as their citizens flee to other parts of the world, including Canada. What are the implications of these world events and in what ways do they impact the work of those who educate and care for young children?
The Early Childhood Educators of BC (ECEBC) recently released a position paper "What is the Role of the Early Childhood Educator in British Columbia?". This paper eloquently articulates our professional and ethical obligations. Who we are and what we do requires us to: 1) work with pedagogical commitments, 2) respond to legacies of colonization, 3) build responsive relationships, 4) co-construct lively curriculum, and 5) practice with ethical commitments. A public presentation on April 19th  provoked generative questions and comments such as this – our work is worthy, to be taken seriously by the public and all levels of government because children deserve it. The ECEBC position paper compels us as educators of young children to create conditions that allow each child to live to their potential and to meet the vision stated in the BC Early Learning Framework of "respectfully living and learning well together".
In the upcoming May is Child Care Month, child-care professionals will be celebrated in appreciation of their commitment and dedication to the thousands of children and families that they work with. At the same time, we have arrived at an important juncture where early childhood education is being moved into the Ministry of Education. This is an opportune time for us to continue to be braver, louder and unapologetic in asking for a universal child care system that positions and upholds the care and education of children as their right. They have a right to learn with ECEs that are highly educated, compensated and respected. As child-care professionals and educators, we need to ensure that we are well-informed so that we can advocate for ourselves.
Educators are leaders and hopeful for a better future, without knowing the shape of that future. Educators are emboldened to disrupt the legacies of the past in order to activate transformative change for the future. In relationship with children, families, communities, materials and places, educators engage in intentional pedagogical work in response to the complexity of our current conditions. Early childhood education is a space to co-create new worlds with alternative narratives. (Early Childhood Educators of BC [ECEBC], 2022)
So what might you do this May to join this momentum to Be heard and Be appreciated?
Become, or continue to be, a member of the North Shore Child Care Resource and Referral program and take advantage of the programs and resources to sustain your personal and professional development. Join ECEBC, your professional organization, the voice for early childhood educators so that they can continue to advocate for the profession. Take the time to gather with your colleagues and together read the new ECEBC position paper "What is the Role of the Early Childhood Educator in British Columbia?" Make note of the language (as quoted above) because it describes why our work is important and gives us the right to ask for better resources to support our profession.  Use the position paper to advocate for the professionalization of our field. Add language from the paper to your website, policies and procedures, job descriptions and parent handbooks. Connect with the Capilano University ECCE program, which has the first and only Early Childhood Education degree in Western Canada, so you can increase your level of credentials. Petition your local MLA for stronger government policies and initiatives to create a first-class child care system in B.C for children and families.
As a collective, let's all commit to this important work so that May is Child Care Month is really something to celebrate this year!
Violet Jessen is the President of the NSCR Board of Directors. She is the current Chair of the ECEBC Board of Directors. Violet is also the Chair of Education and Childhood Studies at Capilano University and teaches in the Early Childhood Care and Education program. She has been an early childhood educator since 1996 and proudly holds an ECE certificate-to-practice. 
Sara Sutherland is the manager of the Children's Centre at Capilano University. She is the current co-chair of the North Shore Branch of ECEBC. Like Violet, she has been a proud early childhood educator since 1996.  
Tia Smith has been a passionate Early Childhood Educator since 1992 and currently teaches in the Early Childhood Care and Education Department at Capilano University. She is a member of the NSCR Board of Directors and member of ECEBC.
References: 
ECEBC (2022). The role of the Early Childhood Educator in British Columbia. Retrieved: https://www.ecebc.ca/sector-initiatives/position-statements.
Ministry of Education; Ministry of Health; Ministry of Children and Family Development. (2019). British Columbia early learning framework. Victoria, BC: Queen's Printer.